skip navigation
Daily Schedule
Fri, May 26, 2017
DAILY SCHEDULE
WEEKLY SCHEDULE
Friday, May 26, 2017
Lana Turner is "a walking acetylene torch" in her first top billing playing a dancer planted in a big Midwest college to win a rigged Hollywood contest. The prize: The starring role... more
TCM PRIMETIME - WHAT'S ON TONIGHT:
MEMORIAL DAY MARATHON
8:00 PM
C - 110 m

TV-PG
Widescreen
Closed
Captions
John Wayne, Dan Dailey, and Maureen O'Hara star in one of John Ford's most personal films, in which he pays tribute to a man he knew and admired in real life, pioneering World War I... more
10:00 PM
B/W - 134 m

TV-G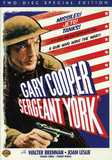 Story of Warld War I hero who captured German position single-handedly. Film also portrays life in the mountains of Tennessee. Director Howard Hawks Star Gary Cooper, Walter Brennan,... more
12:30 AM
B/W - 122 m

TV-PG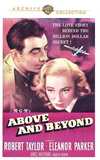 Col. Paul Tibbetts was the man who piloted the Enola Gay the plane that dropped the atomic bomb on Hiroshima in WWII. more
2:45 AM
B/W - 132 m

TV-PG
There are no titles in the genre scheduled.
Recent Movie News
San Francisco Silent Film Festival Begins June 1
- The 22st Annual SFSFF begins June 1, with screenings running through June 4 in the historic Castro Theatre in San Francisco. The festival includes 18 programs total, with all films accompanied by live music.
Dick Dinman Salutes Undervalued Star Van Johnson!
- Kino Lorber has just released on Blu-ray a sparkling new 4K restoration of the riveting suspense thriller 23 PACES TO BAKER STREET and producer/host Dick Dinman welcomes noted author John McElwee to the show as both pay tribute to the versatile and undervalued star Van Johnson.
Kirk and Anne: Letters of Love, Laughter, and a Lifetime in Hollywood
- This is the story of film legend and centenarian Kirk Douglas and his wife of nearly sixty-three years, Anne. Their stories of enduring love and a lifetime led on the world stage unfold through the couple's own candid commentary and priceless letters from their personal archives.
TCM Movie Database
Your destination for exclusive material from the TCM vaults
LEARN MORE >